La solución de recibos digitales inteligente y sostenible: digital, sin papel, conforme a la ley y diseñada para ayudar a hacer crecer su negocio.
Experimente cómo reciben sus clientes el recibo digital
Escanee el siguiente código QR para ver un ejemplo de recibo electrónico.
Abrir un ejemplo de recibo de refive
No se requiere correo electrónico
Los clientes escanean un código QR y abren su recibo digital directamente en su navegador. No se requiere dirección de correo electrónico, descarga de aplicaciones ni registro para verlo, guardarlo y comenzar a interactuar con él.
Ahora se crea un perfil de cliente anónimo en refive. Cualquier interacción del cliente con el recibo digital (por ejemplo, si deja una reseña o introduce su correo electrónico para descargar el recibo) pasará a formar parte de su perfil de cliente.
Datos de compra vinculados al perfil del cliente
Los datos de compra de este cliente se asociarán automáticamente a su perfil y se pondrán a su disposición a través del panel de control del vendedor o mediante integraciones.
Cada vez que el cliente vuelva a su negocio, refive conectará todos sus datos de compra a su perfil de cliente único, mejorando su información del mismo.
¿Su cliente no tiene un smartphone o no quiere un recibo digital? Aún tiene la opción de imprimir uno en papel.
¿Su cliente no habla su idioma? El recibo se mostrará automáticamente en el mismo idioma que el del navegador del cliente.
Recibo digital para recepción
¿Sus clientes necesitan un recibo de recepción? Entonces sólo tiene que adjuntarlo al recibo digital.
Por qué recibos digitales
Sostenible, digital y rentable
Los recibos de papel son insostenibles y generan residuos innecesarios. Son una fuente oculta de emisiones de CO2, contaminación del agua y una fuente creciente de basura no reciclable. (Basta con mirar tu cubo de basura al final del día).
Save paper rolls and time at the POS. Start simple and when you're ready to, start converting all receipts into a powerful tool for customer retention.
Vaya más allá de la reducción de gastos y vea cómo crecen sus ingresos. Descubra cuánto puede hacer crecer su negocio empezando con un rápido piloto del recibo digital refive.
Los potentes recibos de refive también cumplen los requisitos legales para recibos en más de 20 países europeos. Asegúrese de que su empresa obtiene la valiosa información del cliente que necesita a la vez que cumple con las leyes y normativas locales.
No se requiere formación ni para los empleados ni para sus clientes. No hay que descargar ninguna aplicación, no se necesita una segunda pantalla y se tarda menos de 10 minutos en empezar.
Descubra por qué refive es la solución perfecta para su empresa
¡Listo para todos los requisitos!
El recibo digital de refive es adecuado para todas las aplicaciones, tanto en hostelería como en comercio minorista, y ha demostrado su eficacia en numerosas cafeterías y tiendas en las que la rapidez es esencial. Pruebe gratis nuestra solución y compruébelo usted mismo.
The digital receipt integrates seamlessly with your systems and processes
Los recibos inteligentes de refive se integran fácilmente en sus procesos, TPV y otras herramientas existentes. Ni usted ni sus clientes necesitan utilizar aplicaciones o hardware adicionales.
Atraiga a sus clientes directamente a través del recibo digital
Con el recibo digital de refive puede conseguir mucho más que el cumplimiento legal. Utilice las herramientas integradas como la tarjeta de fidelización, comentarios, reseñas, cupones y mucho más para atraer a sus clientes y aumentar sus ventas.
¿Cuál es la magnitud de su impacto?
Los recibos de papel son insostenibles, obsoletos y generan residuos innecesarios. Son una fuente oculta de emisiones de CO2, contaminación del agua y una fuente creciente de residuos no reciclables. (Basta con mirar tu cubo de basura al final del día).
Average number of transactions per day:
Eso supone un impacto medioambiental anual equivalente a...
Cómo los principales minoristas utilizan los recibos electrónicos refive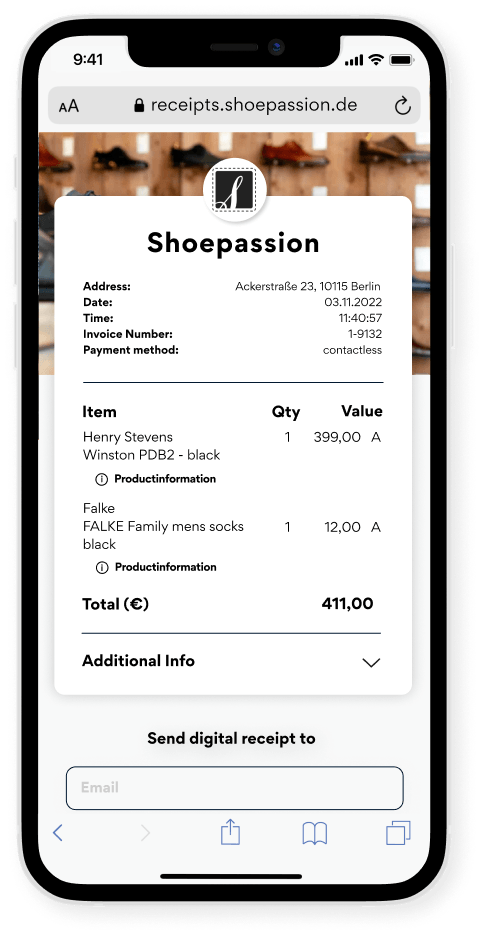 «Con la integración de refive e receipts, podemos conectar realmente el recorrido offline y online de nuestros clientes y obtener una imagen clara de su comportamiento en todos los canales. Esto nos ha permitido no sólo medir el impacto offline de nuestras campañas online, sino también el retorno de la inversión en marketing, el valor del ciclo de vida del cliente y la retención de clientes con mayor claridad».
Set up your QR code, second screen or NFC tag
Choose how you want to provide the digital receipt to your customers!
With the static QR code you can get started within minutes. Just print out your QR code and place it near your POS!
Use a second screen to show a QR code after each transaction. Between transactions engage your customers with offers, games and updates!
The second screen also works great if your customers don't have internet – they can get the receipt sent directly to their email.
NFC-Tag works great together with the QR code customers with NFC enabled smartphones can now simply tap at the POS and receive their digital receipt instantly.
Conozca y deleite a sus clientes
Genere información a nivel de comercio electrónico sobre el comportamiento de los clientes en la tienda, aumente la participación y la retención de clientes mediante recibos digitales inteligentes.