Understand and optimise the offline impact of your online campaigns
Growing digital ad spends, tricky offline attribution and dwindling return on ad spend? Your online ads are driving store revenues too, it's time for you to claim them!
Leverage the digital receipt as the checkout webpage for the physical store
Ad platforms automatically record online conversions. Completed offline sales, however, tend not to be counted in conversion data or applied to attribution statistics. This incomplete data leaves you without a clear picture of the effectiveness of online advertising. refive has solved that problem – the digital receipt functions as a checkout page for your brick and mortar stores, making it just as easy to accurately measure offline conversions as online ones!
We take the guesswork out of your marketing ROI!
Ready integrations with the leading ad platforms mean you can get started immediately without complex tracking implementations.
Skip the statistical analysis and excel sheets – refive feeds data directly back to ad platforms to help them optimize campaigns automatically for you.
There is no need to ask the customer where they heard about you. The data is all there, ready to be viewed.
How refive enables marketing ROI optimisation
Attribute In-Store Conversions to Online Campaigns
Connect in-store purchases with recent ad campaign interactions on various ad networks and attribute a monetary value to each conversion. Measure the true return on ad spend of digital campaigns by combining offline and online conversions.
Maximise campaign ROIs by including customer and transaction data from offline segments. Know where every campaign penny spent has gone and have clarity on the overall impact and returns.
Run remarketing campaigns
Make your in-store customers a part of your remarketing audiences for Meta Ads, Google Ads or other online ad platforms you use. Stay top of mind for your in-store customers through online ads and continuously optimise your digital ad campaigns for better retention.
How leading retailers use refive electronic receipts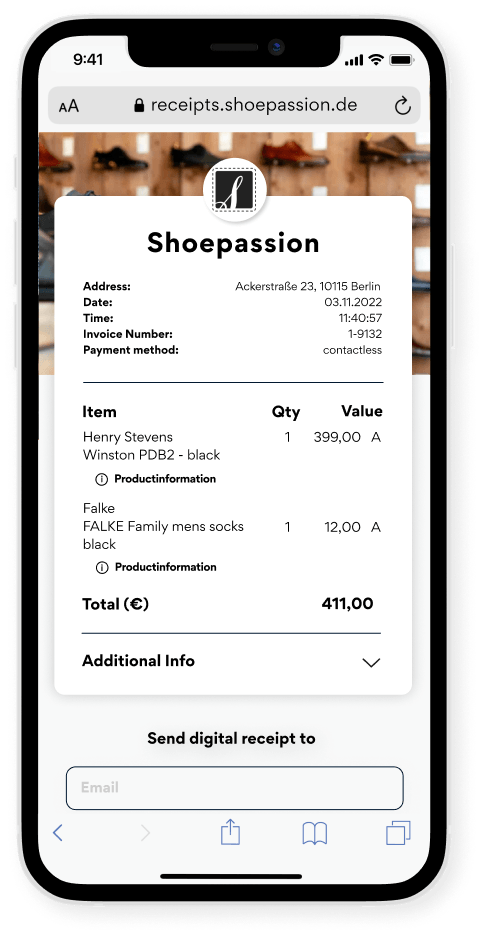 "With the refive e receipts integration, we are able to truly connect our customers offline to online journey and get a clear picture of their behaviour across all channels. This enabled us to not only measure the offline impact of our online campaigns, but also the marketing ROI customer lifetime value, and customer retention more clearly."
Get to know & delight your customers
Generate e-commerce level insights into in-store customer behaviour, increase engagement and customer retention via smart digital receipts