Keep your customers coming back with an effortless loyalty program
Enable your customers to participate in a loyalty program embedded in the digital receipt and connected to your online shop – increasing loyalty participation, customer satisfaction and sales!
Just one click to a loyal customer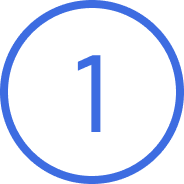 Your customer opens their digital receipt
They are offered the option to enrol in your loyalty program with one click right on the receipt - no card, apps or long forms are required
If they choose to participate, their digital receipt (in the browser and in their email) will automatically show their current loyalty progress and what they need to reach a reward
The customer also receives an email with their virtual loyalty card and their current progress - no need to log in anywhere to stay up-to-date
When the customer reaches the required number of points or stamps, they automatically get sent an email with a reminder to come back into your store to claim their reward
Convert customers into loyal fans
Increase customer lifetime value
83% of people say joining a loyalty program will keep them making purchases at that business (report by Rare Consulting)
Repeat customers spend 67% more than first-time customers  (Bain and Co) – improving customer retention is one of the most cost-effective ways of growing revenues.
Acquiring new customers is expensive and eats into the profitability of their purchase. Bringing loyal customers back into your stores is inexpensive, making every purchase of a loyal customer more profitable!
Strengthen customer loyalty with omnichannel rewards
Connect your loyalty program online and offline to offer a consistent and effortless experience for your customers and increase satisfaction.
Effortless and effective digital loyalty program with the refive digital receipt
Easy signup improves participation
Every customer can take part without needing to download another app. Participating takes only two simple steps – the customer enters their email on their own device via the digital receipt and agrees to enrol into the loyalty program with the click of a button! The refive loyalty experience is so easy that retailers see on average a 20% increase in their digital loyalty program participation.
Choose between setting up a point-based system or a digital stamp card. Do it the way you want it.
Selling online too? Your in-store loyalty program is already ready to connect with your online shop. Regardless of where your customers shop with you they can now collect their loyalty points by simply using the same email address.
Gain in-depth insight into your most valuable customer base with our merchant dashboard. You can keep track of how many rewards are outstanding, how many of your loyal customers haven't visited in a while and much more! Understand your customers and see how your loyalty program helps you increase customer retention, then continue to optimise your program by testing new rewards and offers.
Quick, straightforward setup
With just a few clicks you are ready to launch your individual loyalty program – no apps, no physical cards, no other software required
"Setting up a loyalty program is expensive and complicated with cards, extra devices and more. With refive we were able to get our own personalized loyalty solution going within minutes and our customers come back more frequently in order to collect their rewards!"
Get to know & delight your customers
Generate e-commerce level insights into in-store customer behaviour, increase engagement and customer retention via smart digital receipts