Digital receipts & customer retention - made
simple!
Connect digitally with your customers with the power of smart receipts, directly from your existing POS. Leverage the receipt with the tools known from e-commerce to grow your business! Make your business more sustainable, digital and profitable. No sign-ups, no-apps, no effort – only a frictionless digital receipt solution
Digital, sustainable and profitable
With the digital receipt you save thousands of receipts monthly from being printed. Also you provide your customers a superior customer experience at the POS and a convenient way to stay in touch with you after the visit. Your customers can simply engage with your brand directly via the digital receipt.
A receipt that is able to grow with you!
With refive you can be as flexible in the tools you use as you want. You are thinking of boosting your business with a Stampcard? Then just ping us and we'll get you going. You want to start a Newsletter to improve your customer retention? Our solution is ready to support you and get your local customers to sign up via the digital receipt.
A perfect match for retail and gastronomy!
refive's digital receipt is fit for all use cases in Gastronomy and retail. We integrate into your processes seamlessly and speed up your check out process and are proven in many Café's and stores which rely on speed. Test our solution yourself.
Rewarding your customers' loyalty is a powerful way to convert your customers into fans. Simply set up your individual loyalty program with refive and increase the value of every customer, by building up long term relationships. Without any additional cards, apps or physical stamps!
Gather valuable reviews for your business directly with the digital receipt. More positive reviews on google maps result in a higher ranking in the search results and increase the likelihood of a customer choosing your location.
Have a finger on the pulse of your customers. Learn how good your customer experience is across multiple locations, products and times. Ask selected customers for feedback to understand how your products are performing.
Collect Newsletter sign-ups effortlessly with the smart receipt from refive. Your customers have a frictionless and easy way to choose to stay in touch with you. All it needs to sign up is one click!
Create more visibility for your offers, updates, and recommendations to delight your customer. Improve your offers by making them smarter, interactive and personalised – keep your customers coming back for more!
refive works with most digital POS Systems and we have a wide range of partners. You want to test yourself how the digital receipt works in your store, and how the feedback of your customers would look like? then get started with us and test the digital receipt for free.
How leading retailers use refive electronic receipts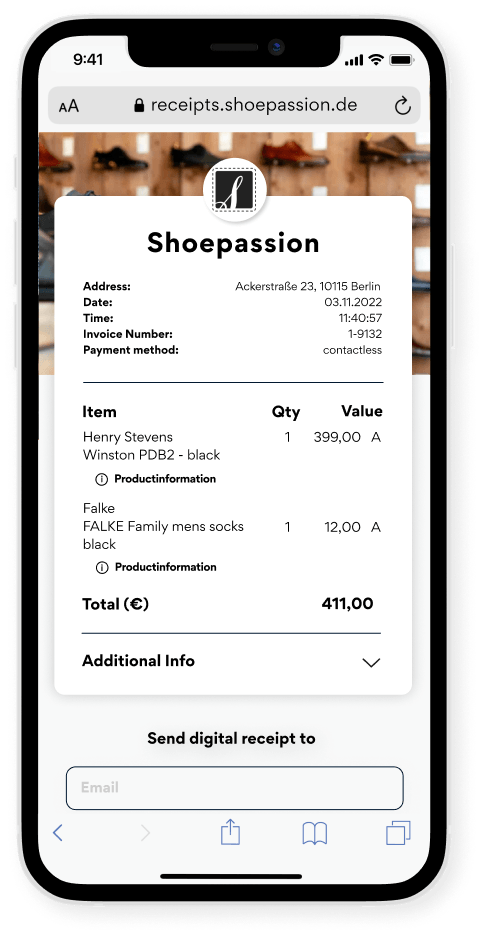 "With the refive e receipts integration, we are able to truly connect our customers offline to online journey and get a clear picture of their behaviour across all channels. This enabled us to not only measure the offline impact of our online campaigns, but also the marketing ROI customer lifetime value, and customer retention more clearly."
Get to know & delight your customers
Generate e-commerce level insights into in-store customer behaviour, increase engagement and customer retention via smart digital receipts