Increase customer
retention
Identify new and repeat customers and give them a reason to return after every purchase. Turn occasional shoppers into regulars and regulars into your biggest fans.
Get to know your anonymous customers via the smart digital receipt
A successful customer retention strategy depends on identifying new and repeat customers, and tracking customer lifetime value and churn rate. It can be challenging to obtain this data and analytics for shoppers in brick-and-mortar stores. Typical solutions like loyalty programs can capture only 20% of in-store customers.
Why refive is good for retention
Get to know every in-store customer
refive enables customer data collection at the checkout, identifying anonymous customers as soon as they load the receipt on their mobile phone without needing them to share personal data or opt in. Merchants who use refive can create and analyse customer profiles for 50-80% of their in-store customers.
When you use refive, there are no additional steps in the customer journey and no new tasks for your cashiers. The receipt is delivered via QR code (or NFC) so customers do not need to download apps, share personal information or fill out forms.
Powerful retention capabilities independent of marketing opt-in
The smart receipt is a channel of engagement that does not require a marketing opt-in. Retain customers regardless of having their contact information or subscription to marketing communications by showing them offers directly on the receipt.
Boost the effectiveness of existing retention tools
The digital receipt is an ideal touchpoint to make your existing tools more visible and easily accessible to customers – right at the checkout.
How refive helps you improve customer retention
Enable personalisation for more effective retention
refive connects purchase data (for both online and offline transactions) with customer interaction data to create detailed anonymous customer profiles. Use these customer insights to contextualise and personalise your CRM campaigns and offers to each unique customer.
Collect marketing opt-ins
Easily collect and incentivise marketing opt-ins and newsletter signups via the digital receipt to stay in touch with your customers between visits.
Deliver the right message at the right time
Decide what marketing campaigns are most suitable for your business and set them up to send automatically based on customer data and behaviour. Increase retention efficiently!
Collect and act on direct customer feedback
Proactively seeking feedback from customers has a positive impact on brand perception. Embed a feedback request on the digital receipt to show customers you care about their experience and to receive real-time input from customers. Quickly react when issues arise and make amends to retain customers.
Boost your loyalty program
Use the refive digital receipt to inform and enrol customers into your loyalty program. Let shoppers collect points or stamps for both online and offline purchases without downloading apps or carrying physical cards. Increase loyalty participation, customer satisfaction and sales.
Improve retention with online remarketing campaigns
Each time a customer loads their digital receipt, refive tracks that conversion and customers become a part of your remarketing audiences for Meta Ads, Google Ads or other online ad platforms you use. Stay top of mind for your in-store customers through online ads and continuously optimise your ad campaigns for better retention.
How leading retailers use refive electronic receipts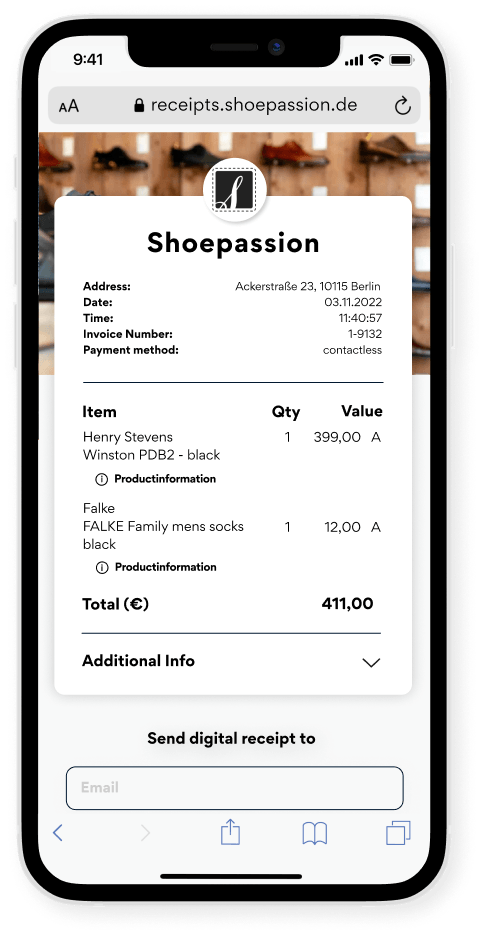 "With the refive e receipts integration, we are able to truly connect our customers offline to online journey and get a clear picture of their behaviour across all channels. This enabled us to not only measure the offline impact of our online campaigns, but also the marketing ROI customer lifetime value, and customer retention more clearly."
Get to know & delight your customers
Generate e-commerce level insights into in-store customer behaviour, increase engagement and customer retention via smart digital receipts