The better
digital receipt
The smart and sustainable digital receipt solution – digital, paperless, legally compliant and designed to help you grow your business.
Experience how your customers receive their digital receipt
Scan the QR code below to see a sample electronic receipt.
Open a sample refive receipt
Customers scan a QR code and open their digital receipt directly in their browser. No email address, app download or signup is required to see it, save it and engage with it
An anonymous customer profile is now created in refive. Any engagement of the customer with the digital receipt (for example, if they leave a review or enter their email to download the receipt) will become a part of their customer profile.
Purchase data tied to customer profile
Purchase data for this customer will be automatically associated with their profile and made available to you via the merchant dashboard or via integrations.
Every time the customer returns to your business, refive will connect all their purchase data to their unique customer profile, enhancing your customer insights.
Your customer doesn't have a smartphone or doesn't want a digital receipt? You still have the option to print a paper one.
Your customer doesn't speak your language? The receipt will be automatically displayed in the same language as the customer's browser language.
Digital receipt for hospitality
Do your customers need a hospitality receipt? Then just attach it to the digital receipt.
Sustainable, digital and profitable
Paper receipts are unsustainable and generate unnecessary waste. They are a hidden source of CO2 emissions, water pollution and a growing source of non-recyclable trash. (Just look at your trash can at the end of the day.)
Save paper rolls and time at the POS. Start simple and when you're ready to, start converting all receipts into a powerful tool for customer retention.
Go beyond cutting costs and watch your revenues grow! Find out how much you can grow your business starting with a quick pilot of the refive digital receipt.
refive's powerful receipts also fulfil legal requirements for receipts in more than 20 European countries. Ensure that your company gains the all-important customer insight that it requires while adhering to local laws and regulations.
No training is required for employees or your customers. There are no apps to download, you don't need a second screen and it takes less than 10 minutes to get started.
Learn why refive is the perfect fit for your business
Ready for all requirements!
The digital receipt from refive is suitable for all applications in both hospitality and retail and proven in numerous cafes and stores where speed is of the essence. Test our solution for free and see for yourself!
The digital receipt integrates seamlessly with your systems and processes
refive's smart receipts integrate with ease into your existing processes, POS and other tools. You and your customers don't need to use any additional apps or hardware.
Engage with your customers directly on the digital receipt
With refive's digital receipt you can achieve much more than legal compliance. Use the built-in tools such as the loyalty card, feedback, reviews, coupons and much more to engage with your customers and grow your sales.
Paper receipts are unsustainable, outdated and generate unnecessary waste. They are a hidden source of CO2 emissions, water pollution and a growing source of non-recyclable waste. (Just look at your trash can at the end of the day.)
Average number of transactions per day:
That's an annual environmental impact equivalent to...
How leading retailers use refive electronic receipts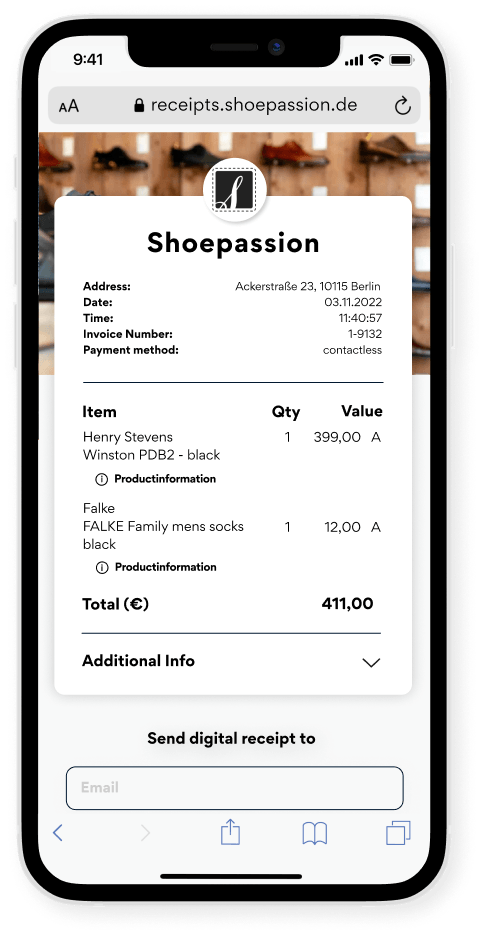 "With the refive e receipts integration, we are able to truly connect our customers offline to online journey and get a clear picture of their behaviour across all channels. This enabled us to not only measure the offline impact of our online campaigns, but also the marketing ROI customer lifetime value, and customer retention more clearly."
Set up your QR code, second screen or NFC tag
Choose how you want to provide the digital receipt to your customers!
With the static QR code you can get started within minutes. Just print out your QR code and place it near your POS!
Use a second screen to show a QR code after each transaction. Between transactions engage your customers with offers, games and updates!
The second screen also works great if your customers don't have internet – they can get the receipt sent directly to their email.
NFC-Tag works great together with the QR code customers with NFC enabled smartphones can now simply tap at the POS and receive their digital receipt instantly.
Get to know and delight your customers
Generate e-commerce level insights into in-store customer behaviour, increase engagement and customer retention via smart digital receipts