Real feedback from
real
customers
Have a finger on the pulse of your customers in real-time. Find out how they feel about your service and products across locations, basket sizes and seasons. Quick and effortless retail customer feedback – directly at the POS.
Automatic feedback requests
In-store
When customers load the digital receipt in their browser, they see the invitation to rate their experience.
Post-purchase
Send feedback requests via email or push notification - hours, days, even weeks after purchase.
Brands are viewed more favourably by 77% of consumers if they proactively invite and accept customer feedback.
customers believe that companies need to take action on retail customer feedback.
Understand customer satisfaction
Get the full picture of your customers' experiences across stores, times and employees. This high level of insight, gained from both historic and current performance, allows you to react and develop based on your retail customer feedback.
Target your feedback requests
Select which products and stores you want to collect feedback for and target your requests to the relevant purchases. Only want to know the feedback of retail customers who spent more than 50 € on shoes? You can do that now.
Pursue more insightful feedback
Follow up with customers to dive deeper into their thoughts and experiences. Understand what they loved or didn't about the products they purchased, their shopping experience and more.
Convert feedback into positive reviews
Easily turn positive feedback into positive reviews. Invite your customers to publish feedback on your website or review platforms like Google Maps and Tripadvisor.
How leading retailers use refive electronic receipts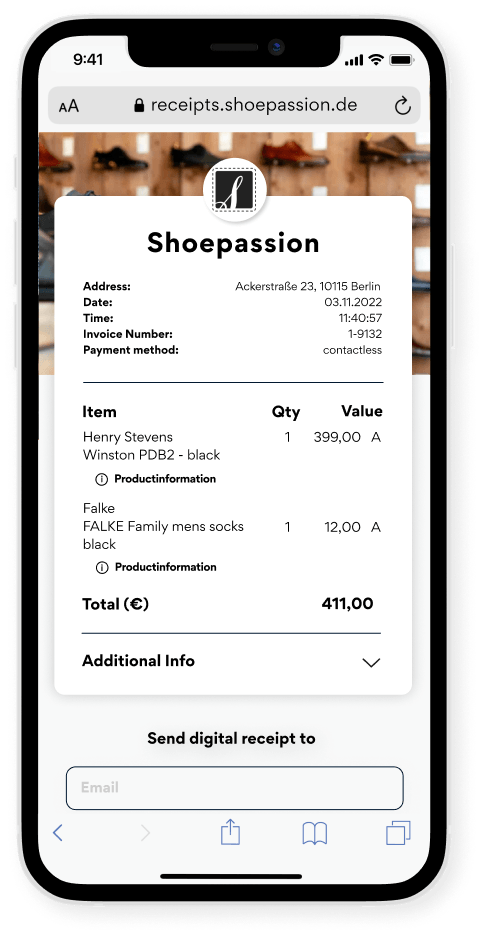 "With the refive e receipts integration, we are able to truly connect our customers offline to online journey and get a clear picture of their behaviour across all channels. This enabled us to not only measure the offline impact of our online campaigns, but also the marketing ROI customer lifetime value, and customer retention more clearly."
Get to know & delight your customers
Generate e-commerce level insights into in-store customer behaviour, increase engagement and customer retention via smart digital receipts