Engage digitally with your
in-store
customers
Use refive's smart digital receipt to interact in new and powerful ways with your customers at the point of sale and post-purchase.
Why refive is good for customer engagement
refive transforms the brick-and-mortar checkout into a new digital touchpoint – making other digital channels, offers and services more accessible to customers and improving the overall customer experience.
Embedded within an existing interaction at the cashier is a new engagement opportunity. The customer isn't required to share personal or contact data, download apps or fill out forms.
Your staff is relieved from changing paper rolls or typing in customer data. They are free to talk with customers, while the digital receipt offers an additional opportunity for customer engagement. Thus you achieve more overall engagement with no extra effort.
refive leverages the moment of delight customers experience as they complete their purchase. This is when customers are most likely to opt-in to marketing communications, most motivated to enrol in a loyalty program or share feedback on the shopping experience.
How you can engage your in-store customers with refive
Introduce customers to your digital ecosystem
When customers shop in your brick and mortar store, converting them into digital channels can be tricky. With refive, customers have a digital touchpoint while at the store and, from there, can directly access your apps, digital services, subscriptions, loyalty programs and more.
Inspire repeat purchases with offers
Show smart, interactive and personalised offers, updates and product recommendations directly on the digital receipt to delight your customers and keep them coming back for more!
Collect customer feedback
Build trust and improve customer relationships by actively seeking customer input on their experience across stores, times and employees. React to negative feedback and show your customers that you care about their opinion.
Boost your online presence by collecting valuable reviews for your business. Refive automatically encourages satisfied customers to leave an online review.
Collect marketing opt-ins
Drive marketing opt-ins for your newsletter directly from the digital receipt. Just one click and your customer can choose to stay in contact with you.
Increase customer loyalty
Make your loyalty program more accessible and convenient by embedding it on the smart receipt. Set up or connect your existing loyalty program with refive.
Enable your customers to learn more about their purchase by sharing relevant product or company information through the digital receipt or Smart Product Assistant.
How leading retailers use refive electronic receipts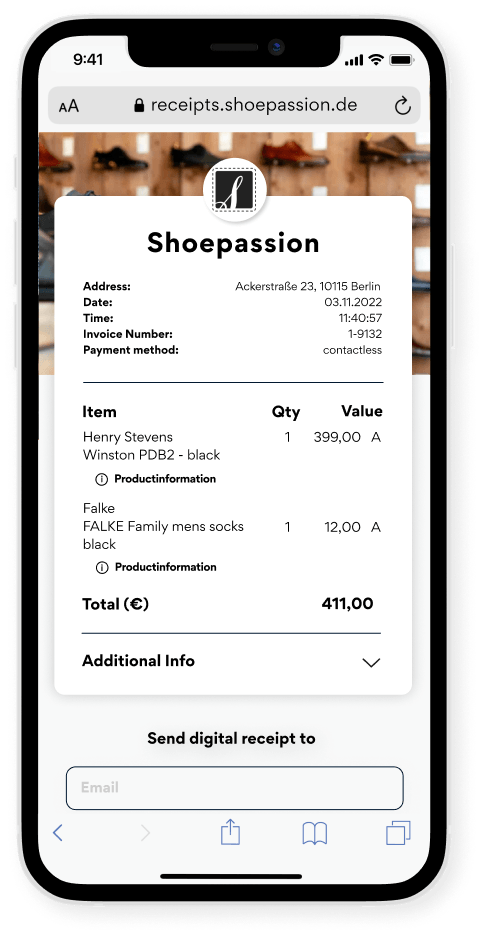 "With the refive e receipts integration, we are able to truly connect our customers offline to online journey and get a clear picture of their behaviour across all channels. This enabled us to not only measure the offline impact of our online campaigns, but also the marketing ROI customer lifetime value, and customer retention more clearly."
Get to know & delight your customers
Generate e-commerce level insights into in-store customer behaviour, increase engagement and customer retention via smart digital receipts